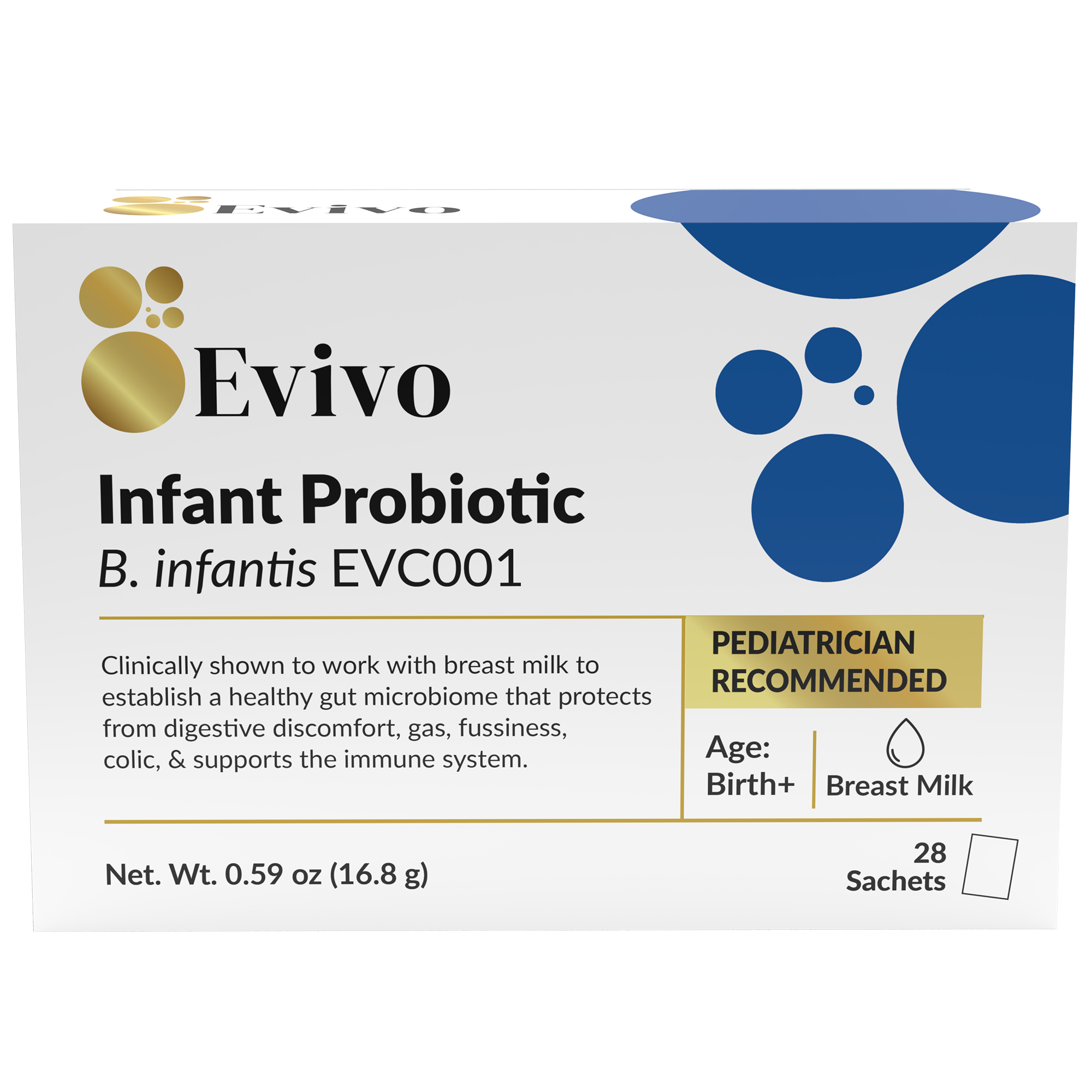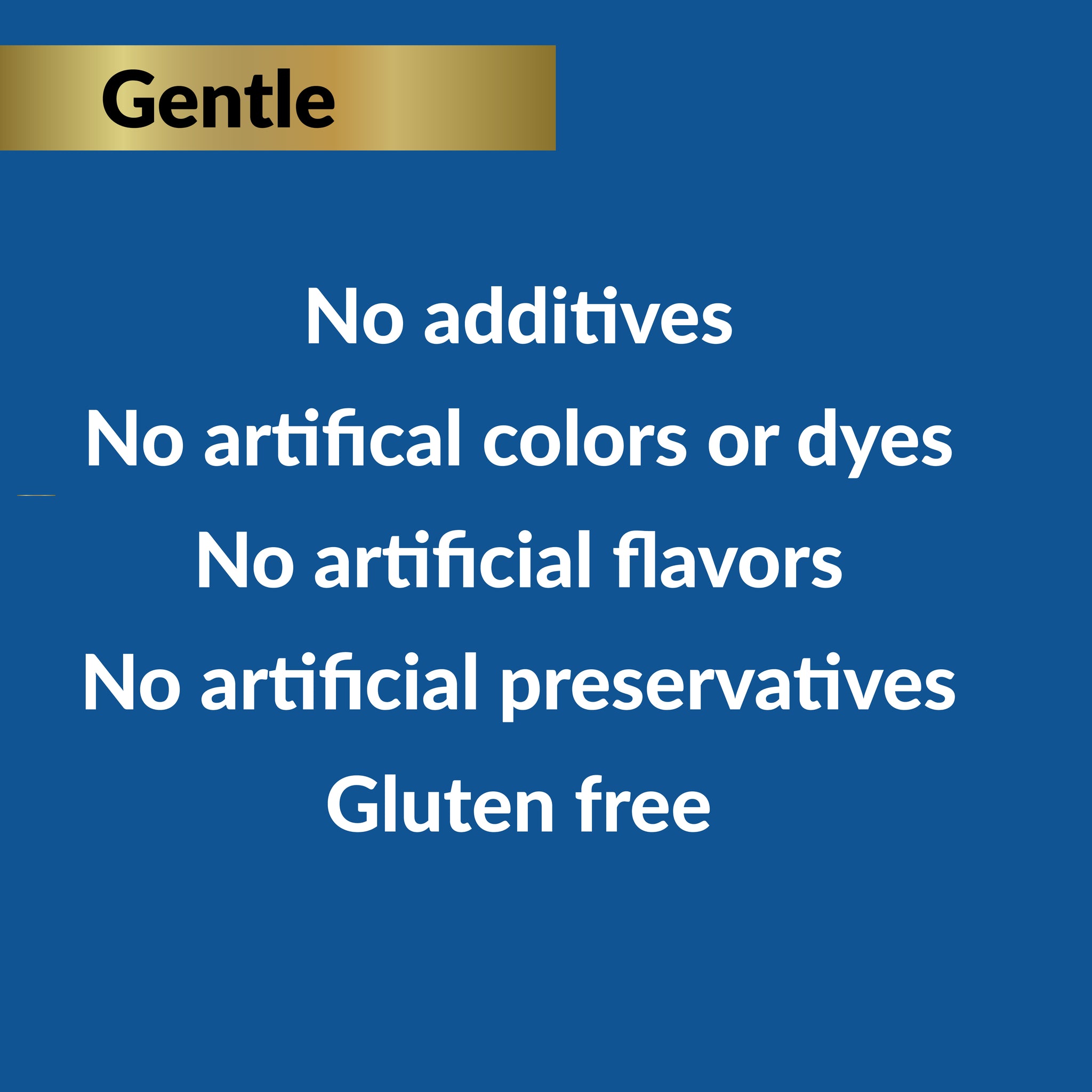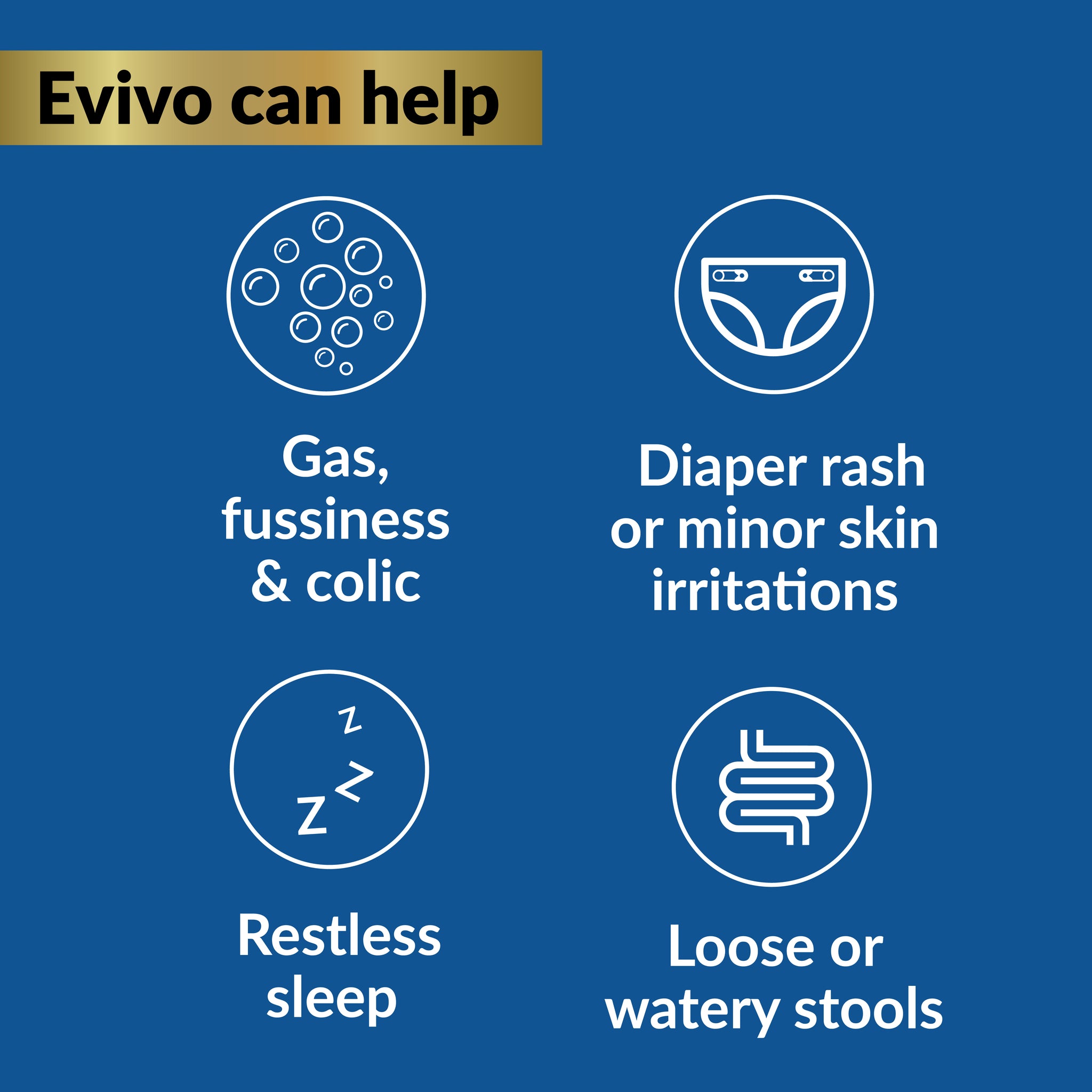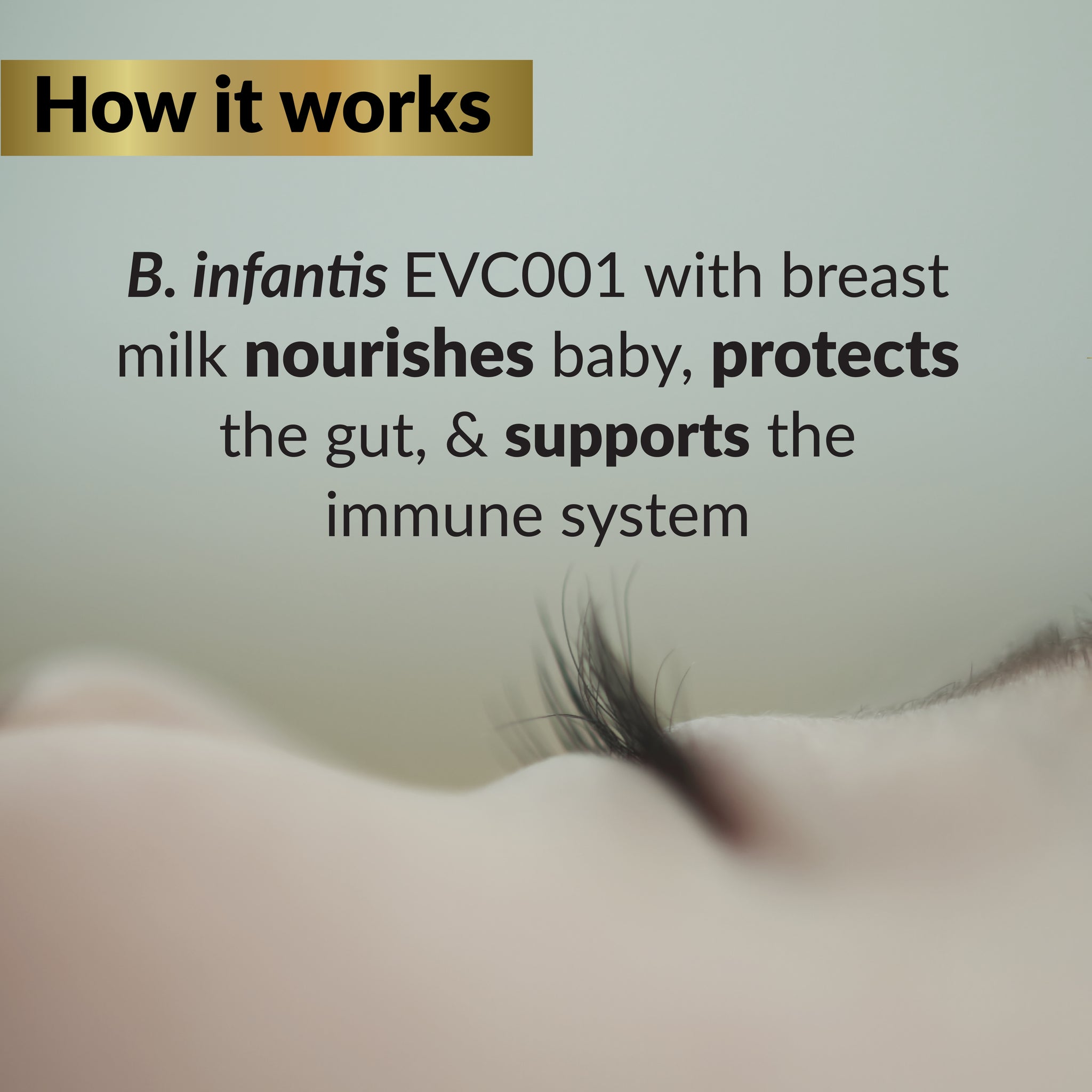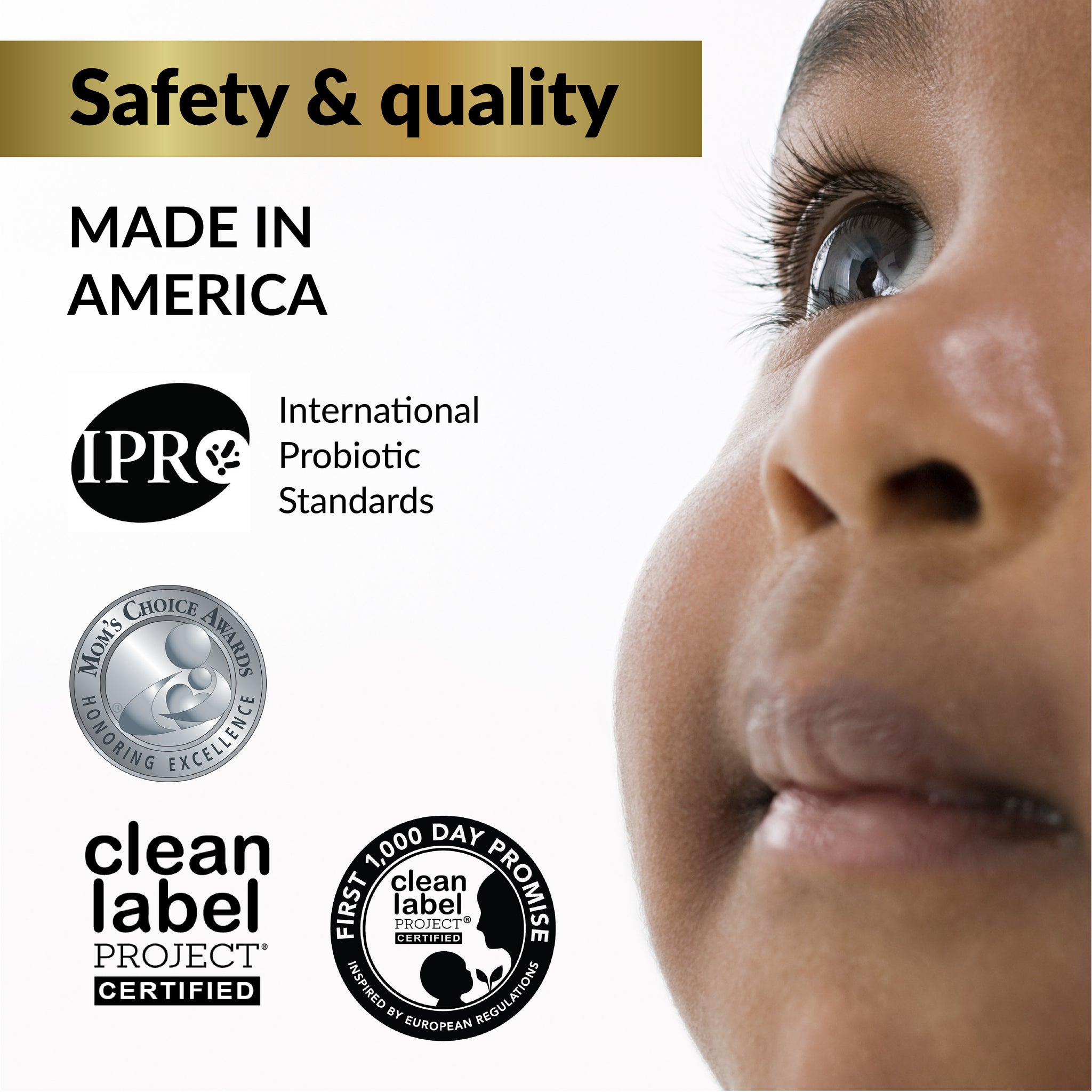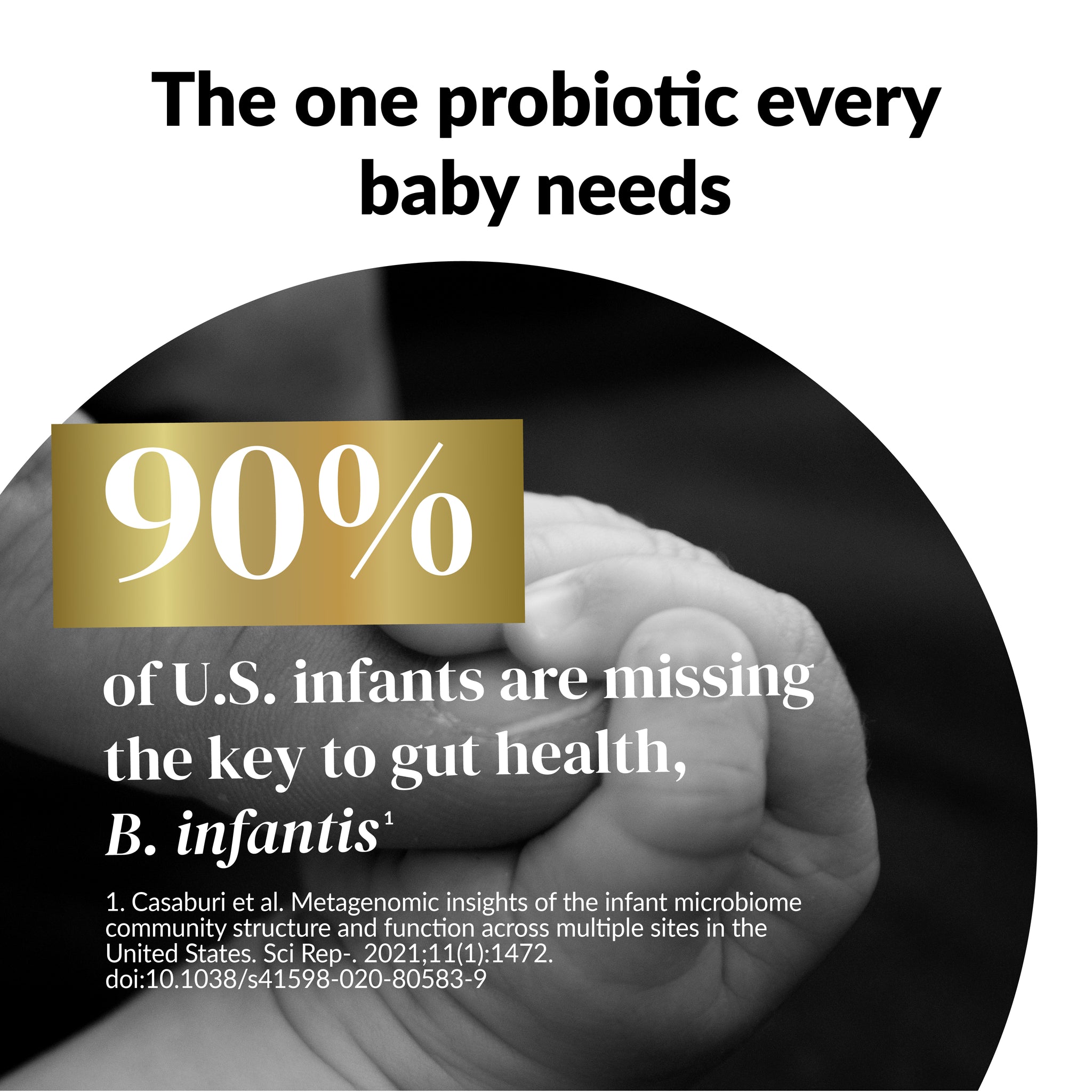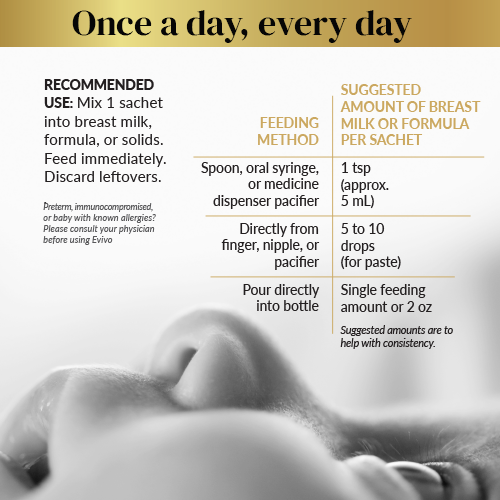 Evivo® Infant Probiotic Powder
Monthly Supply
Evivo infant probiotic powder contains B. infantis EVC001, a strain baby needs. Taken daily, Evivo is intended for babies (0-36 months) fed any amount of breast milk to nourish, guide, and protect. Evivo helps establish a protective gut microbiome to support healthy digestive and immune function. Each box comes with a 4-week supply (28 sachets/box). Product contains lactose & may contain residual traces of soy
Parents report relief within days after feeding Evivo Baby probiotic powder *

72% saw reduced diaper rash
63% reported less gas and fussiness​
52% said baby slept longer​

Evivo is clinically shown to work with breast milk to:​

Replenish good bacteria in 100% of babies *
Establish a healthier gut microbiome​*
Thrive and continuously protect from digestive discomfort*
Help support developing immune systems *
GROUND SHIPPING INCLUDED. .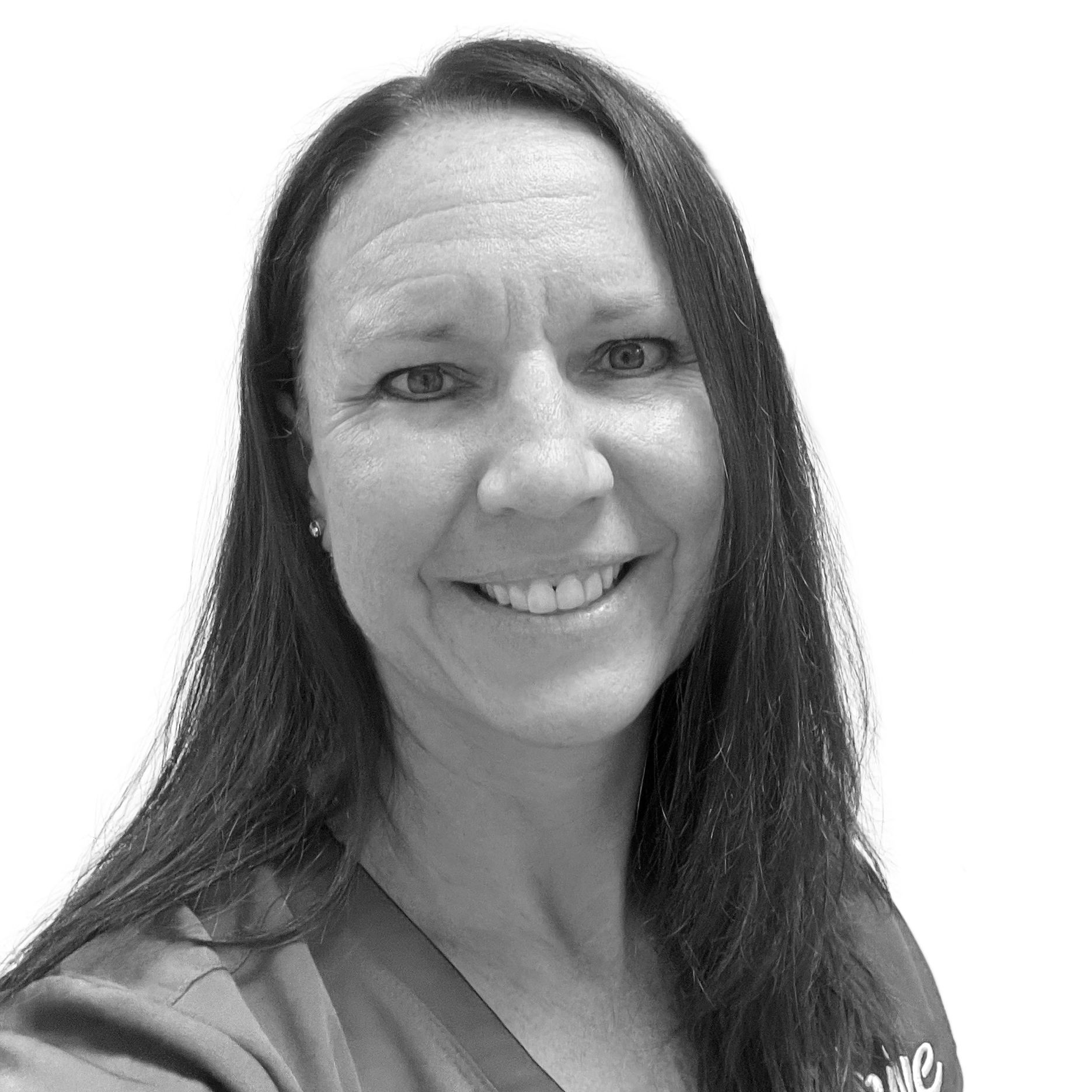 "Thrive Pediatrics recommends Evivo to all their newborn breastfeeding infants. We know the importance of establishing a healthy gut from day one to help infants absorb all of the wonderful nutrients found in breastmilk. We have noticed that infants at our practice that are fed Evivo have less instances of gas, fussiness, and colic related symptoms. We believe in the importance of gut health and partnering with Evivo has helped our babies THRIVE."
Dr. Deanne Miller
Owner/Pediatrician
Thrive Pediatrics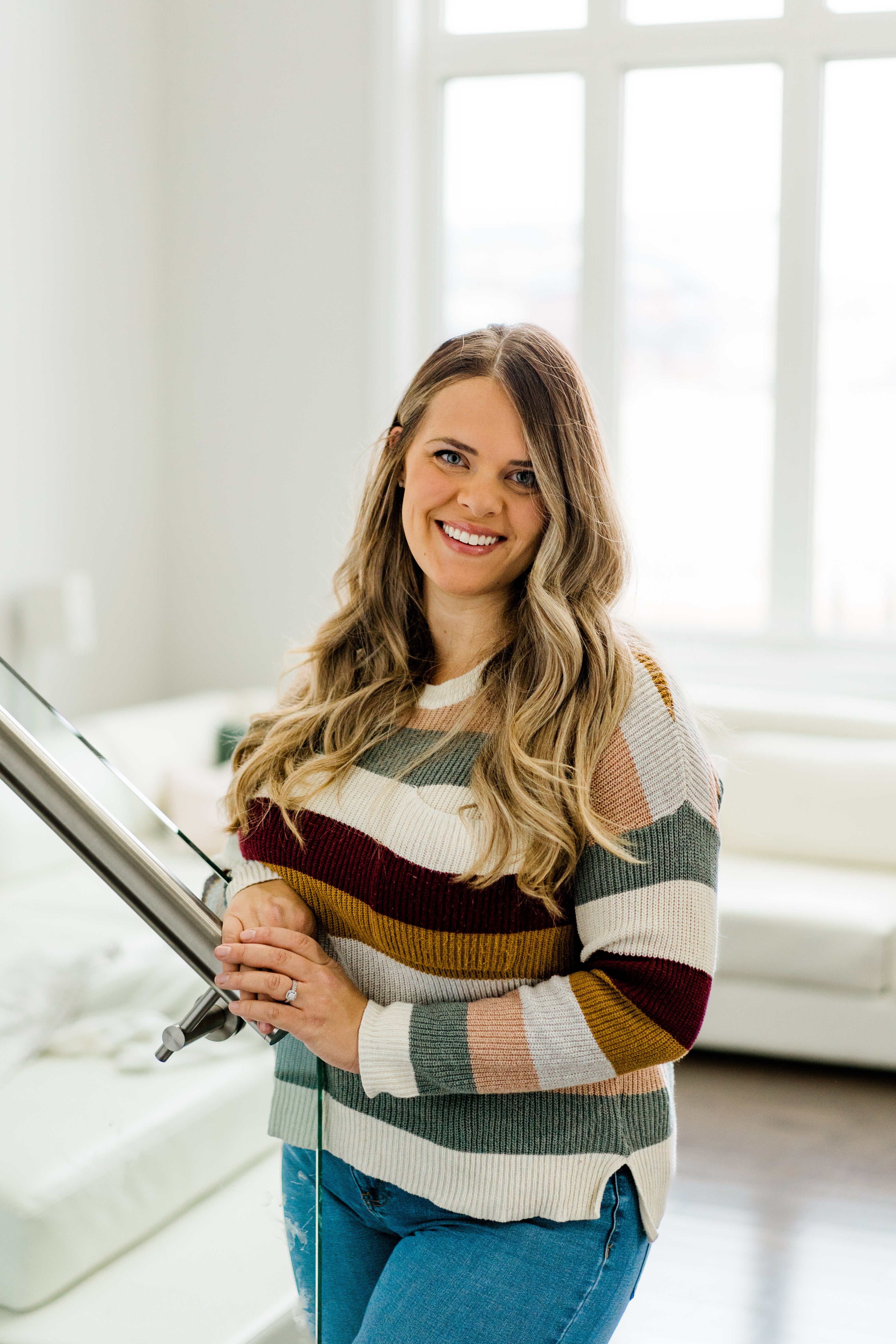 "I've been giving my newborn baby Evivo for 2 months straight and have noticed a significant improvement in her skin, bowel movements, and sleep schedule. I was so satisfied with the results that I started giving my toddler and 5-year-old Evivo too. I feel confident knowing that their gut bacteria are healthy! As a sleep consultant, I highly recommend Evivo for every new parent!"
Bailey Aulenbach
Sleep Consulant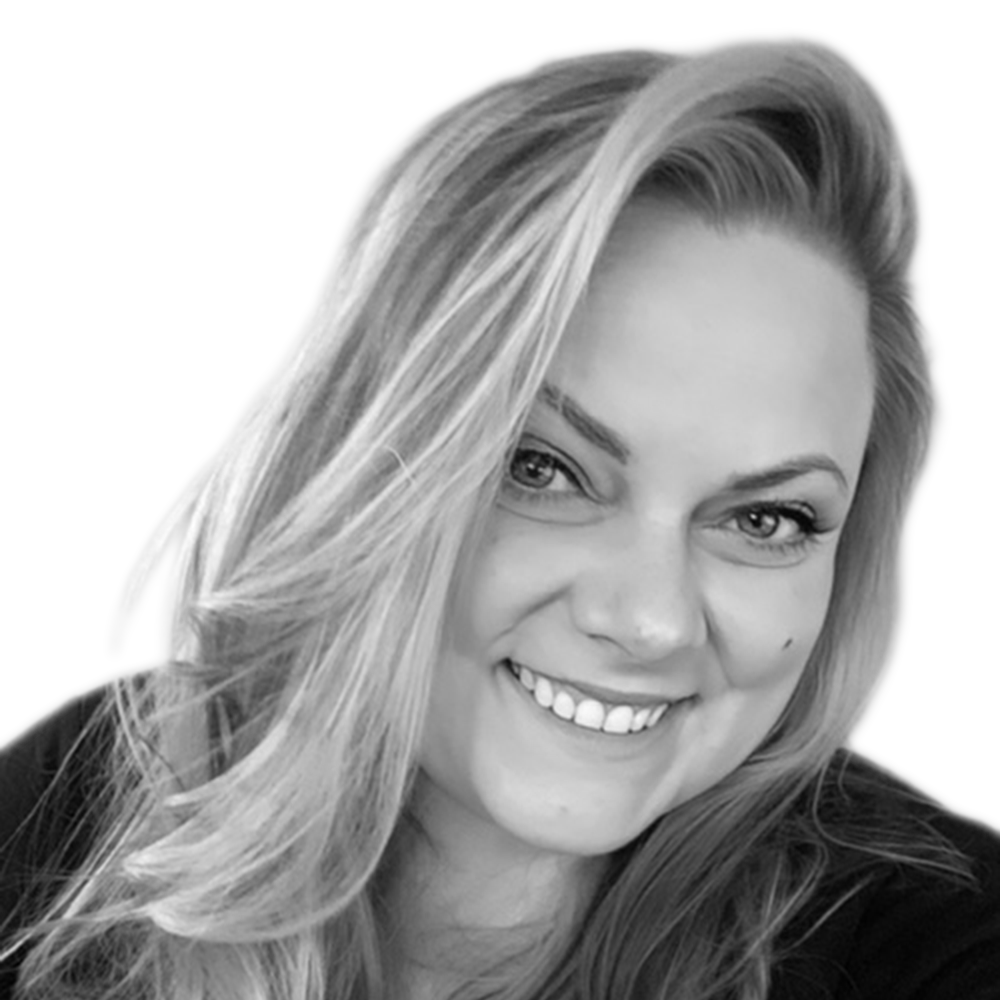 "Working with infants post discharge, prioritizing gut health is paramount. It affects not only our babies' growth trajectory and immunity but also helps babies regulate themselves and establish those beautiful sleep cycles we are always striving for. Evivo has helped many of my patients do just that, tolerate their feeds, sleep better, and meet their highest potential."
Monika Resenauer DNP, NNP-BC
Developmental Nurse Practitioner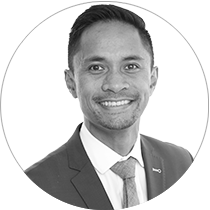 "Evivo and its role in supporting the infant gut microbiome is an example of thoughtfully harnessing the synergy between nature and our best understanding of the developing infant immune system to help support the growth of all babies."
Albert Antonio, DO
Neonatologist
Frequently Asked Questions
Research has identified hundreds of types of bacteria, and many are sold as probiotics for your baby, but many do not have an explainable process that describes how it works inside the body. That's why Evivo is different.
WIth Evivo, baby can digest important breast milk nutrients called HMOs (Human Milk Oligosaccharides). While other probiotics pass through, the good bacteria (B. infantis EVC001) in Evivo captures and consumes HMOs to thrive and colonize within the gut, reducing potentially harmful bacteria and intestinal inflammation linked to colic, diaper rash, eczema, and allergies. With up to 80% of our immune system in the gut, establishing a healthy gut microbiome is key to supporting immune function and positively impacting development.
Learn more about what matters when choosing a probiotic for baby here, and how Evivo works here.
All insurance plans are different, we recommend touching base with your insurance provider directly. The Evivo Reimbursement Request Form can be downloaded and completed by your healthcare provider and sent to your insurance company to request purchase reimbursement from your insurance provider.
Evivo contains lactose derived from dairy. Lactose is the carbohydrate portion of milk. Lactose is naturally present in breast milk, which is why we chose to use it in Evivo. The milk protein and other components are separated to produce high-purity lactose.
When making Evivo, one of the components of the fermentation media contains broken pieces of soy and casein (peptides). These peptides are consumed by the bacteria when growing. At the end of the process, the media is discarded.
We do not expect any intact milk protein, soy or casein protein in the final product but cannot guarantee it. We recommend you talk to your pediatrician to determine if Evivo is suitable for your baby.
Evivo works with breast milk to help your baby maximize the nutrients in the milk, resulting in less waste. That's why changes in stool consistency are likely to occur, including a decrease in bowel movements. However, a change in bowel movements does not have to occur as every baby is unique and responds differently.
There's a wide range of what's considered normal with baby poop. Some babies have a bowel movement with every feeding, while others may have one per week. The color of an infant's stool can also vary depending on factors like age and diet. In general, any shade of brown, yellow, orange, green are typical. When solid foods are introduced, stool color may change based on the new foods they are consuming. If stools are soft and the baby is producing enough wet diapers, eating well, and growing properly, don't be concerned.
All infants should naturally have B. infantis in their microbiomes as a natural process part of their development, but 90% of babies in the U.S. no longer have due to high antibiotic use, and modern birthing and feeding practices. Evivo is recommended for all breast or mix-fed (breast milk + formula) babies. 
Shipping Policy
FREE GROUND SHIPPING WITHIN THE CONTIGUOUS US.
We include free ground shipping within the contiguous US.
Orders shipped to Alaska, Hawaii, Puerto Rico, as well as international shipments, will be charged shipping fees based on weight and destination. Special promotions and offers may reduce or eliminate shipping charges, but handling fees may still apply.
Orders placed and processed Monday through Friday by 10:00 am PT typically ship the same day. Orders placed and processed after this time will typically ship the following day.
A refund must be requested within 30 days of delivery. Original shipping and handling fees are not refundable. An approved refund will be issued minus shipping & handling fee of $20 per carton. Subscription cancellation is the responsibility of the user. Subscriptions must be cancelled 5 days prior to next scheduled shipment. Shipments cancelled <5 days prior to shipment will not be refunded. Email customerservice@evivo.com for more information about Orders, Shipping and Evivo's Return Policy.
Supporting Evidence
Frese, Steven A., et al. "Persistence of supplemented Bifidobacterium longum subsp. infantis EVC001 in breastfed infants." MSphere 2.6 (2017): e00501-17.

Casaburi, G., et al. (2021) "Metagenomic insights of the infant microbiome community structure and function across multiple sites in the United States." Scientific Reports.doi.org/10.1038/s41598-020-80583-9

Smilowitz JT, et al "Safety and tolerability of Bifidobacterium longum subspecies infantis EVC001 supplementation in healthy term breastfed infants: a phase I clinical trial". BMC Pediatr. 2017 May 30;17(1):133. doi: 10.1186/s12887-017-0886-9. Erratum in: BMC Pediatr. 2017 Aug 15;17 (1):180. PMID: 28558732; PMCID: PMC5450358.

Karav, Sercan, et al. "N-glycans from human milk glycoproteins are selectively released by an infant gut symbiont in vivo." Journal of Functional Foods 61 (2019): 103485.

Dimitratos, S. M., et al. "Symptomatic relief from at-home use of activated Bifidobacterium infantis EVC001 probiotic in infants: Results from a consumer survey on the effects on diaper rash, colic symptoms, and sleep." Beneficial Microbes 12.4 (2021): 333-340.

Reyman, M., van Houten, M.A., van Baarle, D. et al. "Impact of delivery mode-associated gut microbiota dynamics on health in the first year of life". Nat Commun 10, 4997 (2019). https://doi.org/10.1038/s41467-019-13014-7

Martin JA, Hamilton BE, Osterman MJK. "Births in the United States, 2016". NCHS data brief, no 287. Hyattsville, MD: National Center for Health Statistics. 2017